What is Emergency Fund (EF)?
Since the day of inception, Baglung Sewa Samaj, Canada has been focusing on fundraising. It dates back to 2011 when members of BSSC participated in the volleyball tournament organized by NRN Canada in Ottawa. When they won the tournament they agreed to save winning money for good social cause. This humanitarian spirit finally pushed not only to raise fund but also inspired to establish an organization which could unite people who are from Baglung, Nepal to Canada.
Consequently, the second AGM held in July, 2013 here in Toronto unanimously made a decision to raise Emergency Fund total of $20,000 Canadian to provide immediate relief to the people severely affected from natural disaster. Our fund raising strategy is that each member of the organization has to contribute one time at least $100 to the fund. Moreover, we have a strategy to reach to the people who are not members but can make contribution to our goal.
The Executive Board meeting before the 3rd AGM held in August 4 in Toronto decided to use the fund collected for the education purpose. The meeting unanimously decided to endorse bylaws amendment agenda regarding the use of emergency fund. The AGM passed this agenda with full applause and part of this fund since then started going to education project in Nepal.
Where does EF go?
Primarily, this EF is a disaster relief assistance that will go to the families and people in Nepal who are badly affected from natural calamities and disaster and living in dire need of food, shelter and medicine in Nepal. In the past, the organization has been able to offer monetary help to the people affected from Seti Flood in Pokhara in 2012 and families affected from landslides in Baglung-Resha. Baglung Sewa Samaj, Canada encompasses humanity as its core value.
In 2014, $500 Canadian Dollar was sent to Sunkoshi landslide victims and $235 was sent to Nepal for scholarship project.
Receipt of Donation to Sunkoshi Landslides Victim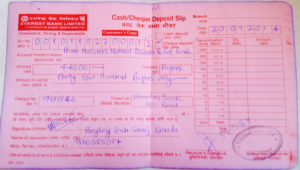 How does it go?
The executive committee will decide the process of providing relief assistance upon having all pledged amount collected from the donors. The amount of donation will be determined by the committee. Decision will be made upon screening a disaster situation. Generally, this money will be kept in the fixed account of the bank that gives us sufficient amount to meet our objectives. Moreover, the suggestions of the members will be highly considered.