The chairperson of Baglung Sewa Samaj Canada Mr. Durga Adhikari and representatives of Mega Adventures Pvt. Ltd. handed over a temporarily built school and educational materials to School Management Committee of Gaulingeshwar Mahadev secondary school in an informal program organized by school.
The school was completely collapsed from deadly earthquake of June 25, 2015. Eleven classrooms were constructed in school playground temporarily. Timber from community forest, bamboo, tin, and plywood were used to build the school where 12 white boards, markers, erasers and ink to suffice for six month were given to school on the occasion.
In a program, headmaster of Gaulingeshwar Secondary School Sugaram Tamang presented a short report stating that the total cost for building classroom is 380,000 NRS where 92 people made their incredible volunteer contribution. He expressed sincere thanks to BSSC and member of Mega for their outstanding support to build school.
Mahesh Sharma, key player to coordinate Baglung Sewa Samaj and School assured students to come school regularly because the chance to come such a big quake is thin.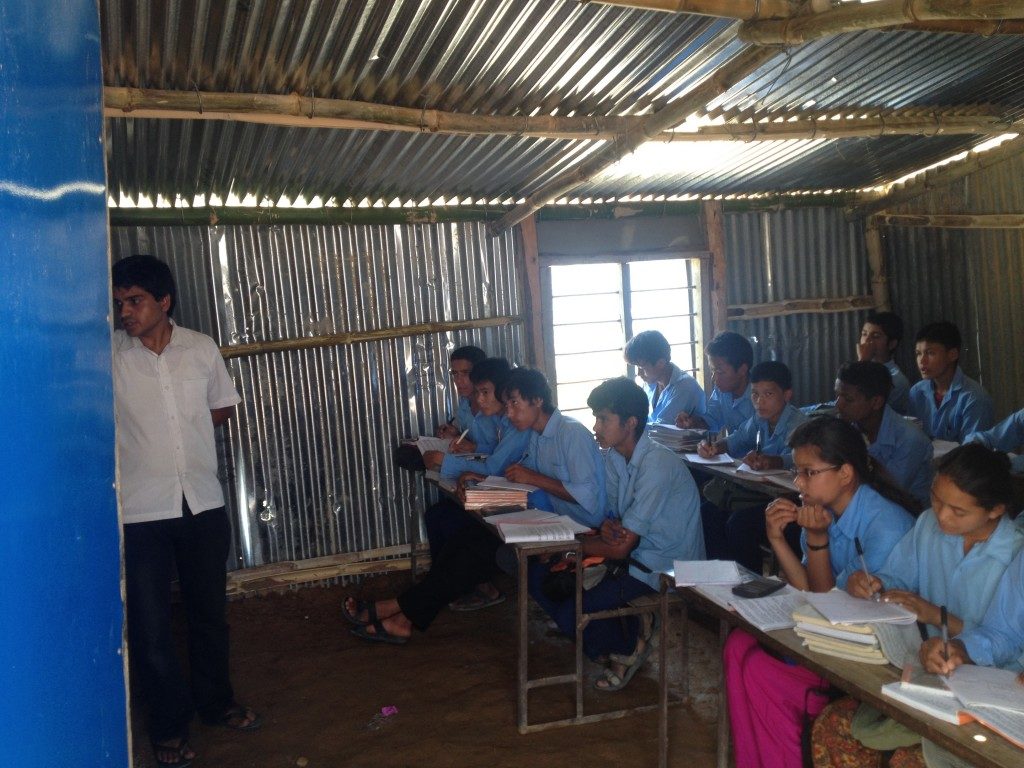 Adhikari mentioned in his address that Baglung Sewa Samaj Canada is a not-for-profit organization incorporated with provincial government established by the people from Baglung to Canada aiming at providing assistance at the time of natural disaster. Our work with this school has built a strong attachment with school, which will last long. Further, he said that help of this kind might continue if organization avails all the resources. Expressing utmost satisfaction in seeing classroom ready in short period of time, he thanked teachers, parents and local and volunteers from Mega Adventures and wished best ahead.
Chairman of management committee Keshab Dahal thanked BSSC in taking action amidst big confusion and frustration to start a school. He appreciated this task. Pralad Subedi, a social actor and member of school building coordination committee stated with happiness that this school has been an example of this area due to BSSC help. Some other schools have requested me to approach with your organization to build some classrooms. He requested to take it in to consideration, seriously.
Duipipal is a densely populated remote VDC. There are 18 primary, 2 Lower Secondary, 3 Secondary and 2 Higher Secondary schools. None of the school has remained safe from deadly quake. Among all, Gaulingeshwar Mahadev is the first one to have safe and fully equipped classroom now.
Photos: Durga Adhikari